Get Fit in LA with
Powerserge
Do you live in the Los Angeles area and are looking for your next personal trainer? Don't settle for anything less than what your body deserves.
There are tons of trainers out there that claim to be the best, but only a few have the results and knowledge to prove it. A good personal trainer should be engaging, hard working, fun, and most of all, determined. When it comes to your health, you don't want to risk working with someone who won't work with you.
Working out can feel tedious and getting results may seem impossible. Whether you feel like you're in a slump, need more motivation, or maybe just need someone to show you what to do, Sergio Carbajal is the fitness trainer you've been looking for
Click here for a free quote!
.

Sergio grew up with a professional boxer for a father. His whole life has been centered around fitness and being the best you can be. Sergio is highly athletic and came to Los Angeles as a professional dancer. With skills in multiple fields, such as kickboxing and gymnastics, Sergio is a well rounded athlete and someone you can count on for guidance.

His fitness coaching style is like one you've never seen. Sergio is highly disciplined and uses those disciplinary skills to focus his mind and train his clients. Not only do his fitness classes help you burn fat, lost weight, and gain muscle, but they also allow for an opportunity to learn and grow.

Sergio's motivation and drive make him the ideal personal trainer for individuals looking to be healthier overall. With fitness always a passionate part of his life, Sergio is ready to make it a passionate part of yours.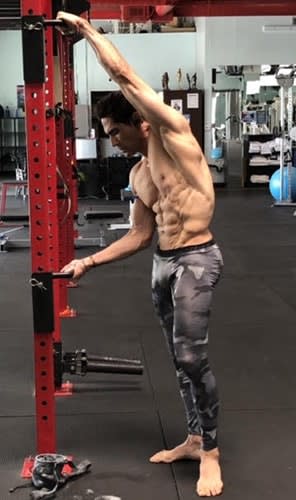 What is
PowerSerge Fitness

?
Wanting to help share his extensive fitness knowledge, Sergio started PowerSerge Fitness. PowerSerge Fitness is a fitness program designed to transform your body and mind into the best it can be. There are no limits with this fitness class! PowerSerge makes sure you are getting the best and most efficient workout possible.

PowerSerge Fitness can help you lost weight, burn calories, build muscle, and sculpt your body. The fitness classes push you while teaching you the things you never knew your body was capable of. PowerSerge knows how to make exercise fun and will leave you exhausted and excited for the next one!
What are the Benefits of
PowerSerge Fitness

?
Almost everyone has "problem" areas. These are the little things about us that makes you feel like you're not at your best. It's natural to feel insecure, but that doesn't mean you have to. Beginning a workout plan, joining a gym, and dieting can all seem intimidating and especially difficult without any knowledge or people to join you. With PowerSerge Fitness, you don't have to feel fear of being alone or not knowing enough!

You are capable of a total body transformation with these cardio based sculpting workouts. Burn calories and fat effectively and efficiently without doing any fad diets or other unhealthy practices. Increase your overall strength with classes that target your full body. These fitness classes are great for anyone, from those looking to build or gain muscle to those who are over weight and looking for efficient weight loss. Standard fitness classes don't have a range to work from.

They won't make sure each individual is well taken care of and doing exercises that are right for their skill level. You will never feel over shadowed or left behind in any PowerSerge Fitness Class.
See Results and Transform your Body!
Not only does Sergio have the background and training to prove he will not lead you astray, he also has the evidence! Sergio has helped hundreds of people better their fitness, health, and lives with his classes. He will not let you let yourself down and his clients can attest to that! Sergio knows how important overall fitness is. He will make sure you are getting the best possible work out.

His fitness classes will help you gain strength in difficult areas such as shoulder, legs, and most importantly, the lower back.

These areas lose their strength and stamina as you age, yet they are a major part of your day-to-day life! Don't let your age get the better of your health. By starting now, you will be able to help your body be the best it can be and make your life healthier.

Get a Free Quote and Start Your Journey
Contact Sergio today and get a free quote! Don't be afraid to get started on a path to better
your life! PowerSerge Fitness offers the best private and group classes, meaning there is
something that will work for anybody.
Don't settle for being any less than you could be. Start
your body transformation today with PowerSerge Fitness.